Welcome to the Tiger Knight: Empire War Wiki
[
edit
|
edit source
]
Tiger Knight: Empire War Wiki, referred to as the #1 source on the internet on the popular video game, Tiger Knight published by Oasis Games Limited.
Tiger Knight: Empire War is an epic action strategy PVP game released on October 24, 2016 for Early Access on Steam. The game features meticulously researched battle equipment and weaponry, music from renowned composer Hitoshi Sakimoto (Final Fantasy), high-octane action and three different modes of strategic gameplay. Tiger Knight allows players to take control of real-life ancient armies as they clash on some of the most iconic battlefields in history.
Game Background - The powerful Eastern Han Dynasty stepped into the darkness night. The imperial power was weak and fragile. The Kushan Empire, lying across the Central Asia and Southern Asia, was split into several small countries after countless brutal wars. The Parthian Empire, stretching across the Eurasia, was gradually weakened by the wars against the Roman Empire that was stuck in the endless civil wars and the invasion of the barbarians. During this period, warlords got opportunity to rise up. In truceless times, you can command soldiers or fight by yourself to win the warfare and become a valiant hero.
Multiple Battle Modes - Tiger Knight is a warfare online game with the features of cold weapon strategy and action. It brings the realistic diversified arms and restraint relations of ancient wars. You can not only eliminate enemies with your own hands but also command your troops to win the battle with your wisdom.
Characteristic Ancient Battlefields - The game restores numerous famous battlefields during the era of the Three Kingdoms, such as Battle of the Red Cliff, Battle of Guandu, Battle of Weinan, Battle of Jieqiao, Battle of Fancheng, Battle of Dingjunshan, Battle of Bowangpo, etc. Different battlefields require different strategies.
Diversified Arm Types - The game bring you a variety of featured arm types, including Heavy Spear Infantry, Heavy Cavalry, Bow Cavalry, Crossbow Cavalry, Axe Shield Soldier, Crossbow Soldier, Bowman, Light Blade Infantry, etc. There are 75 types of characteristic arms in total for you to choose. Arms of different types have different equipment and skills.
Weapons & Armors - Currently, Tiger Knight has prepared 409 weapons and 402 armor for you to choose. With more arm types being unlocked, more unique weapons and armor will be revealed! Different combinations of weapon and armor will bring you different battle experience! Weapon & Armor Restraint System Weapons and armor have different protection attributes and damage types, bringing the different restraint relations. Damage effects on different parts of the body are different, too. Meanwhile, the load of the armor will affect your motility.
Realistic Riding Battle - The riding battle is the most characteristic battle method on the cold-weapon battlefields. The game provides you with dozens of different battle steeds and harnesses to restore the realistic riding battles
Photos and videos are a great way to add visuals to your wiki. Find videos about your topic by exploring Fandom's Video Library.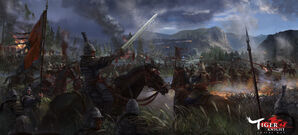 Community content is available under
CC-BY-SA
unless otherwise noted.